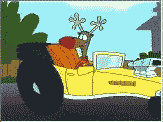 Elmo is an Elk and a Tv star With a Red Nose Voiced by
Steve Savage Holland
Eek!'s extremely inept but loyal friend. Elmo typically maintains a courageous façade but is actually quite cowardly. He typically works as a stunt man or in some form of action career. He also believes that there are 31 days in the month of June.
He is Unlike Rudolph the Red Nosed Reindeer,a Christmas Special Star
He Usually Starred in His Own Show
He Dates Women unlike Master Roshi From the Dragonball Series.