Eek! The Cat (retitled Eek! Stravaganza in 1994) is an American and Canadian animated series, created by Savage Steve Holland and Bill Kopp and produced by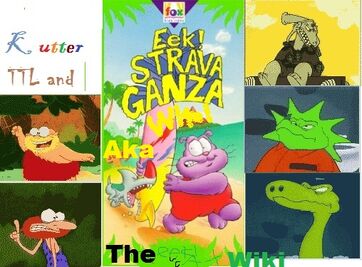 Fox Kids and Savage Studios with animation by Nelvana, that ran from September 11, 1992, to August 1, 1997.
Eek! The Cat is abour a purple cat named Eek whose motto is "it never hurts to help". This attitude generally gets him into trouble, from which much of the humor of the show is derived. Other characters include Eek!'s human family, with whom he cannot communicate via spoken language; Sharky the Sharkdog (his worst nightmare), and Eek's girlfriend, Annabelle.
The show featured slapstick humor and pop culture references. Show vary from standard cartoon fare to movie spoofs (Apocalypse Now, A Clockwork Orange) and musical episodes; the first Christmas episode was written almost entirely in rhyme. The show featured many cameos by celebrities, some of whom came back for several episodes
Latest activity
Edit